Gulfstream


release the fruit

from your grapes
Gulfstream guarantees controlled and effective heating of your grapes. The immersion principle gives instant and consistent results while preserving the quality of the harvest.
"Gulfstream is an additional winemaking tool for us to adapt certain cuvées to suit the tastes of our consumers by giving more fruity aromas and body. We mix freshly harvested grapes with thermovinified grapes to take full advantage of the two techniques. We have 2 Gulfstream machines which each run at a flow of 7 t/h. While we heat with one machine, the second allows us to cool the grapes after a few hours of hot maceration.
This technology has enabled us to alter the organoleptic characteristics of our wines to meet the demand from certain international markets, thereby increasing our competitive advantage."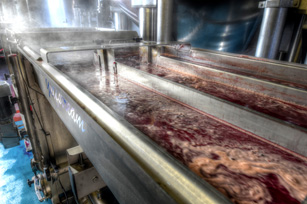 QUALITY
• Respects the whole grape harvest
• Extracts all the phenolic compounds quickly
• Reduces the amount of pyrazine and geosmin
• Alters the harmful enzymes (laccase, polyphenol and oxidase)
• Gives well-rounded, supple and aromatic wines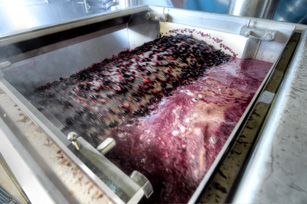 Cost effectiveness
• Reduces labour costs
• Value-creation of 100% of the harvest
• Reduces up to 35% of energy
• Treats damaged grapes (Botrytis)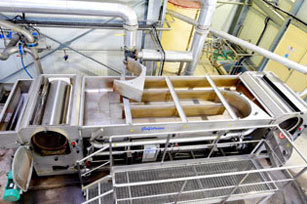 PERFORMANCES
• Full range
• Versatility:
- Cold and hot temperature regulation
- Feeds in whole clusters or destemmed grapes
• Heats the grapes for flash detente
• Can be used with well-drained grapes (heats the dry matter)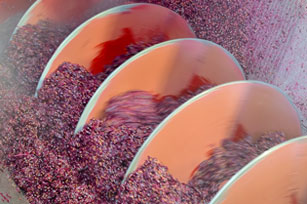 COMFORT
• Programmable automat
• Simple and intuitive touch screen
• Automated process
HEATING GRAPES

BY IMMERSION,
ONE WINEMAKING PROCESS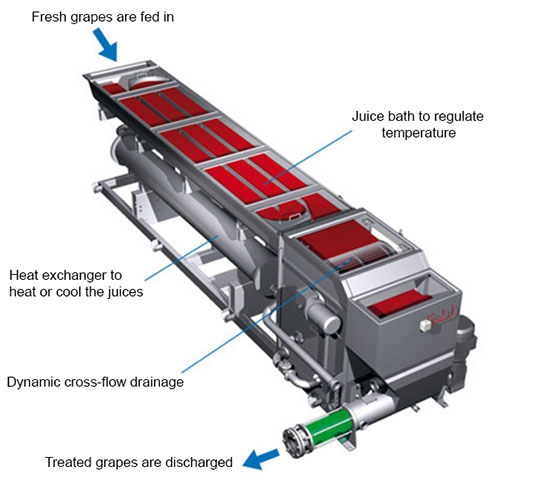 How
it works
Regulating the temperature of the grapes uses the immersion principle and dynamic cross-flow drainage: the grapes are soaked in a coolant bath and drained in drums which then transfer it.
The processing chain is entirely controlled by a programmable automat which regulates the temperature when the grapes leave the heating chamber depending on the type of vinification chosen (Hot pre-fermentation maceration: 70°C, flash detente : 85°C).
A simple and intuitive touch screen enables the operator to control the various operating parameters (temperatures, maceration time) and informs the operator of the Gulfstream status.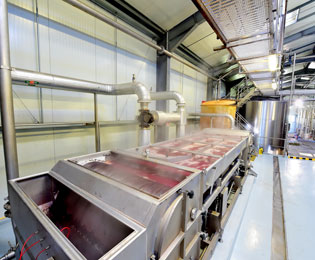 FULL BODY,
FRUITY, AND SUPPLE WINES
The large evaporation surface of the Gulfstream eliminates a considerable proportion of undesirable compounds from the musts (methoxypyrazine, geosmin and others).

Analytical measurements have shown the effectiveness of this evaporation process.

Plus, the process of heating the grapes by immersion has a sanitary effect on any damaged grapes by treating the berries to destroy the harmful enzymes.
A MODULAR,
UPGRADABLE RANGE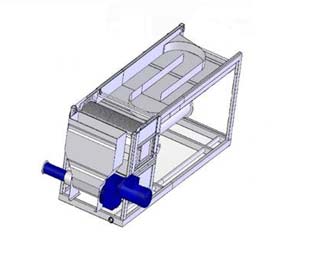 • Cold and hot temperature regulation
• Whole clusters or destemmed grapes
• From 10°C to 85°C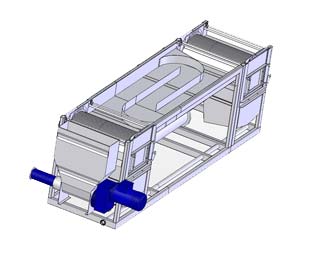 • Cold and hot temperature regulation
• Whole clusters or destemmed grapes
• With draining before heating
• From 10°C to 85°C
Models
Flow (t/h)
Intuitive tactile interface
Drainage drum downstream
Drainage drum upstream
Hopper + discharge pump